1. I am the Feature Friday author on Writing 4 Two, where I'm also giving away a signed copy of Violins of Autumn.

2. I'm starting to crave spring weather. We have beautiful parks around here, and I desperately want to go for a long walk surrounded by colour, and warmth, and flowers.

3. On the Family Day long weekend we celebrated my sister-in-law's 40th b-day at a chalet in Blue Mountains, Ontario. My vacations usually involve sleeping in a tent and cooking outdoors, so a chalet with the comforts of home was a nice change of pace! And I'd never been there before, so it was great to go somewhere new. Blue Mountains/Collingwood is only a 3 hour drive north of where we live, but the kids and I were shocked by how much colder that area is than what we're used to. The kind of bitter cold that immediately seeps to your bones, straight through multiple layers of clothes. But, it was just so beautiful. I pushed myself to bundle up and get out to the ski resort two days in a row.

4. Day 1 at the resort, I watched my teens attempt to ski for the first time. That was... amusing. And the tiny little skiers (seriously, they looked about 2-3 years old!) zipping down the hills like pros were amazing to watch. Day 2, I skated on a pond for the first time! Apparently in the twenty years since I last wore my skates my feet have become even more hobbit-like. Determined to skate, I crammed my broad flippers into those narrow skates and off I went. Talk about pain. But I did it! And I didn't fall once! We also explored the shops and restaurants in the resort's Village, which was fun. You can't beat lunch at an Irish Pub after spending hours outside in the cold!

5. This was our view from the chalet's living room. My oldest daughter and I could have stood by the windows and watched skiers and snowboarders whiz down the double black diamond runs for hours. I don't know why we found it so entertaining. Maybe because that level of talent and athletic ability astounds us--it was like watching real-life superheroes or something.

Will we go back to Blue Mountains again? Definitely!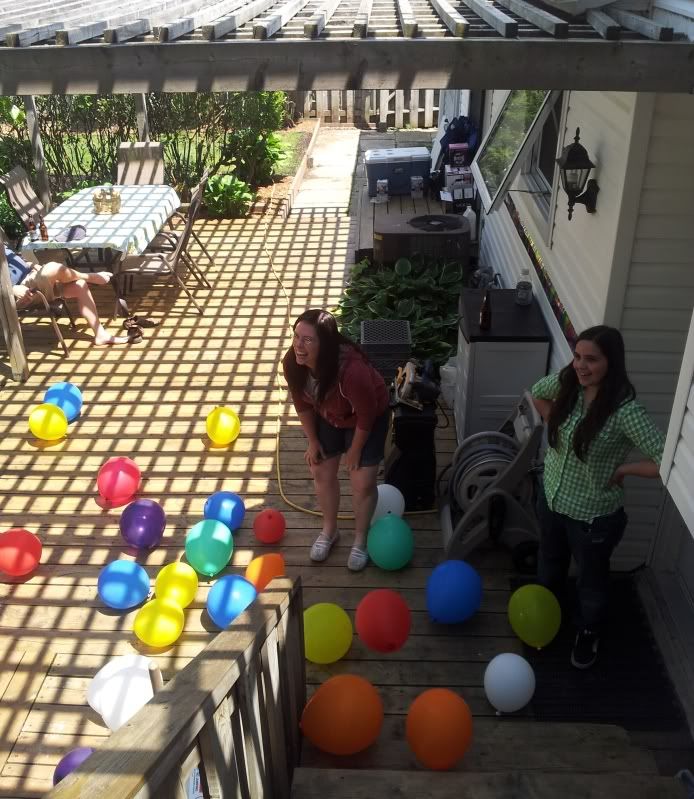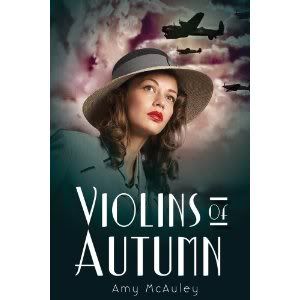 Violins of Autumn celebrated its pub day on June 19th.
We visited my hometown, Kincardine, for the annual Scottish Festival.
In my husband's hometown, we saw Alice Cooper and Iron Maiden in concert. Billion Dollar Babies was one of the albums I loved to put on my parents' turntable when I was in 1st grade. It was freaky to actually see Alice in person, standing right in front of me.
We camped at Inverhuron Park, one of my favourite places. The weather was great for the most part, but on the day we left it rained all night and all morning. Packing up a tent campsite in a torrential downpour... fun!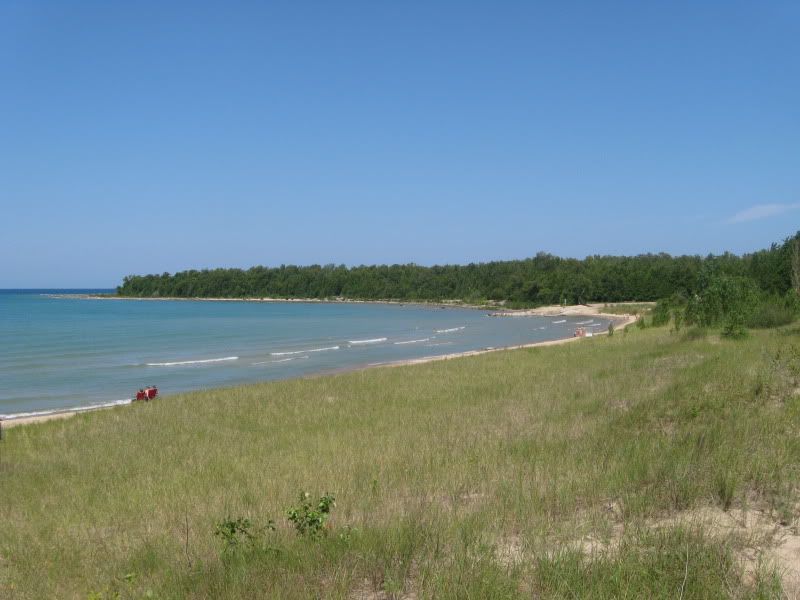 My husband and daughter saw Bruce Springsteen. 16th row! Are you as jealous as I was?
I don't have photos, but this summer we grew a vegetable garden. I didn't realize how cool it would be to run outside and cut off some broccoli or pick tomatoes and peppers when I ran out! I also rode my bike, but not nearly as much as I wanted to, travelled to visit family, floated around the pool with cocktails, and did a tonne of yard work. And that's it. Summer's over for another year!
Surprise! I celebrated my 40th birthday with a very fun party. My oldest daughter dragged me to the mall to keep me out of the house, which almost backfired because I'm not really a shopper or a fan of malls. Everyone hid on our upper deck, and when I came outside they shouted and threw balloons down at me. (Despite knowing that I hate balloons!)
DEBtastic Reads
! I talk about where the initial spark for the book came from, the journey to publication, and real-life women of the SOE. You can also enter a giveaway to win a signed copy of Violins of Autumn and a charm bookmark!
Today is Violins of Autumn's pub day. I can't believe it's finally here! Debbi Michiko Florence very kindly interviewed me about the book, and I'm excited to be in the spotlight at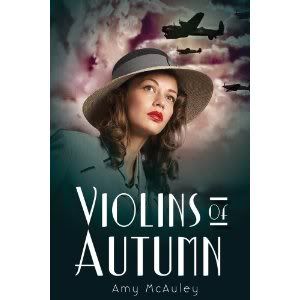 Violins of Autumn will be released in a little more than a month. In Canada, it's available May 29th! Stressss.
Review-time is not for the faint of heart. And authors are not a particularly thick-skinned bunch. I've read a few excellent articles lately about how important it is for us to remain thin-skinned and emotionally aware. We feel, damn it!! I try to let the hurtful stuff slide--it's just one person's opinion--but it's difficult. I cry. I lose sleep. I fret about a review's impact on sales, and I worry about disappointing my editor. My experience with my first book wasn't that good, and I really want this time to be different.
The reviews for VIOLINS have been very good, but my favorite is definitely the 4Q review from VOYA. Here's a snippet:
"...the first-person narrative offers an engrossing insider's perspective, blending the demands of wartime with the developmental needs of late adolescence. Who to trust, who to respect, who to emulate, and who to fall in love with are all part of Betty/Adele's coming of age in the deftly sketched context of the German occupation. Worthy of consideration for school reading lists, Violins of Autumn (the radio code phrase that indicates the Allied invasion is nigh) is a memorable, vicarious experience of a notable chapter in twentieth-century history and will appeal to WWII and spy fiction buffs alike."
Worthy of school reading lists! As soon as I read that, my heart literally soared right out of my body. But don't worry, some 2-star ratings quickly dragged my heart back into place. ;-)
And here's a snip from Booklist's review, my 2nd favorite: "McAuley does a fine job of weaving historical events into the story of a young woman coming of age in a most dramatic fashion. Spying, having run-ins with German soldiers, watching people die—there is something on almost every page to make readers catch their breaths. Along with the action, there are plenty of humanizing moments as Adele makes friends and loses them and finds small moments that keep her going."
I like the final few words of this one, because I think it applies to writers. It's all about the small moments that keep us going.
amygreenfield
asked, What is fall like where you live?
Where do I live? London, Ontario, Canada.
I love autumn where I live. To me, fall means pumpkins, tart McIntosh apples, comfort food, and a welcome return to long pants and sweaters. Monarch butterflies are everywhere, about to make their long migration. The daily temperatures swing, sometimes wildly, between the sizzling heat of summer and the frigid cold of winter. London is known as The Forest City, and in October, when our trees turn vivid shades of yellow, orange, and red it really is something to see. When my kids were small, autumn meant trips to the local orchards and maple sugar bush. And, like most other places, fall means back-to-school. ;-)
The leaves have just started to change. The photos below were taken on my bike ride yesterday.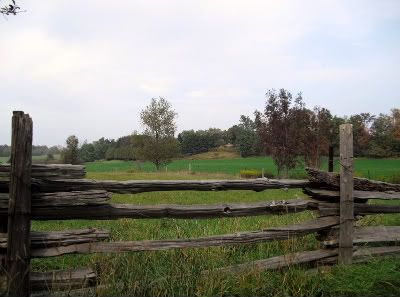 2. I'm revising my WWII novel. As I go through the marked-up manuscript, I'm tackling all the easy fixes first. The changes that need more thought/work get a sticky note. Here's a photo of what I've accomplished (?) so far, and it scares me.
3. So much for Southern Ontario's heat-wave. Day after day, our backyard thermometer shot up to a whopping 40 degrees. Now summer seems to have completely disappeared.
4. This kind of weather makes me want to bake cookies.
5. During my husband's two weeks of vacation we renovated our dining room to open it up to the kitchen. We moved one wall back almost a foot, cut the other wall in half to create a butcher block-topped peninsula with bar-stools, ripped out old carpet and installed new flooring, painted the kitchen & dining room, and replaced our old furniture. We were very sore by the end of the reno (plus, we had a camping trip in the middle of those two weeks). I am so in love with our new room, but my favourite part is my new workstation. I don't have to write at the dining room table anymore!!!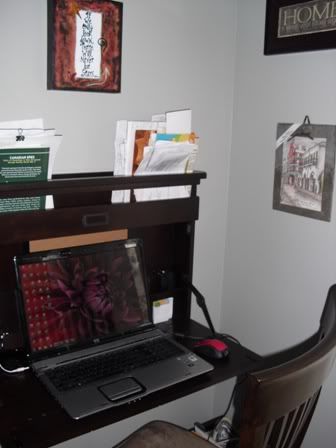 1. My son started ninth grade this week. I don't remember being this nervous when my girls went to high school. All week I've worried about bullies and the major intersection the kids have to cross. And the school is massive. What if he gets lost? What if he forgets his locker combination? I know I can't baby him. He'll do fine. But... I guess it's just harder when it's your youngest.
joknowles
is the kind of book that pulls you in from the first page. The kind of book you can't put down, because you are so invested in the characters you must find out what happens to them. I've often heard Jo mention her mantra of, "Is it true yet?" And that search for "true" is evident in the writing, the dialogue, the characters. This is a book that seems so... real.
Unfortunately, although this is the kind of book you feel you can't put down, I never seem to have time to read a book straight through. So, I grabbed time to read JUMPING OFF SWINGS every chance I could. While waiting for my daughter outside campground showers. During car trips when it wasn't my turn to drive. At my son's Ortho app't--and, of course, at a point when my eyes flooded with tears, the hygienist came into the waiting room to collect my son.
I finally finished the book yesterday. And, Jo, I loved it. I will dig deeper in my own writing now because I've read it.
JUMPING OFF SWINGS, by