amygreenfield asked, What is fall like where you live?

Where do I live? London, Ontario, Canada.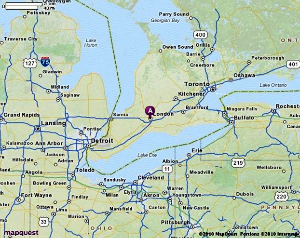 I love autumn where I live. To me, fall means pumpkins, tart McIntosh apples, comfort food, and a welcome return to long pants and sweaters. Monarch butterflies are everywhere, about to make their long migration. The daily temperatures swing, sometimes wildly, between the sizzling heat of summer and the frigid cold of winter. London is known as The Forest City, and in October, when our trees turn vivid shades of yellow, orange, and red it really is something to see. When my kids were small, autumn meant trips to the local orchards and maple sugar bush. And, like most other places, fall means back-to-school. ;-)

The leaves have just started to change. The photos below were taken on my bike ride yesterday.